When I was just thirteen years old, I had my first job.  I was a dishwasher for Sunday brunch at this cute little restaurant in my hometown of Strathroy, Ontario, Canada.  At the time, it was called Michelle's, after its owner, but now you can find it as The Clock Tower Inn.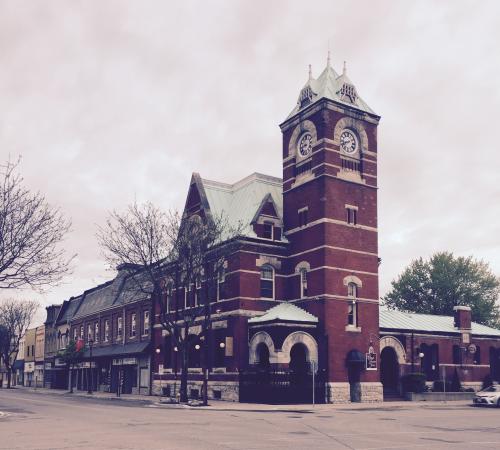 It was a quaint little restaurant, built inside Strathroy's old post office.  Red brick, a clock tower and its small town charm made this little spot a cornerstone of the town's culture.
My days as a Sunday brunch dishwasher didn't last long, as chef and co-owner, Fred, decided it was high time I stepped into the kitchen, behind the line, and start doing some of the cooking myself.  Perhaps this was one my past experiences that has influenced my passion for cooking today.  He showed me the ropes, taught me some skills and before I knew it, I was there preparing brunch for the entire restaurant, my little 13 year old self.
It was there at Michelle's where I had first heard of a quesadilla!  It was love at first bite.  Before I knew it, I was whipping up quesadillas left and right, and eating them too!  The best part about quesadillas?  Filling them with whatever you want! It's a great way to use up leftover veggies or even chicken or beef.  You can make loads of variations:  vegetarian, seafood and of course, with chicken or beef.  Mix and match with your choice vegetables, and you are set!
When I came across this recipe, I was stopped in my tracks.  Mushroom quesadilla??!! Yummmmmyyyyyy!!! This recipe is super easy and super quick to prepare. But beyond that, it is delicious!!!!  I made some variations of my own from the original recipe, so feel free to do the same!  Enjoy!
Mushroom Quesadilla & Succotash
Time:        30 Minutes
Servings:  4
Ingredients       
3 tbsp unsalted butter
12 oz sliced white mushrooms (5 to 6 cups)
Kosher salt and freshly ground pepper
1 small red onion, thinly sliced
1 clove garlic, minced
1 1/2 cups grated havarti cheese (about 6 ounces)
1 tsp dried oregano (use Mexican if you can; I couldn't find it so I just used regular)
4 10″ flour tortillas
1 jalapeno pepper, seeded and thinly sliced
2 cups frozen corn (I used Fire-roasted and it looked (and tasted!) awesome)
2 cups frozen lima beans
2 shallots, chopped
Directions
Click below for video instruction!
Recipe inspiration from The Food Network